You are here:
Home
| The Brahan Seer
The Brahan Seer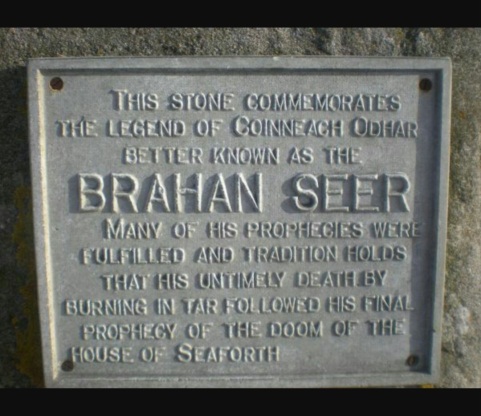 The Brahan Seer worked for Kenneth Mackenzie, 3rd Earl of Seaforth. Having become famous in his times for his predictions and dazzling personality, he met an early and unfortunate end through one fateful prediction.
Lady Seaforth was outraged and embarrassed by his foretelling that her husband, the absent Earl of Seaforth, was philandering in Paris. So much so, she ordered the unfortunate Seer to be burned alive in a spiked barrel of tar at Chanonry Point.
Some of the Brahan Seer's Predictions
"One day ships will sail round the back of Tomnahurich Hill" - To say that ships would sail round the opposite side of the hill from the river seemed highly illogical to those who first heard the prediction, but the prediction came true. Today the 19th century Caledonian Canal forks off from the River Ness at the eastern head of Loch Ness - which continues its route through Inverness town centre - and heads north-east "round the back of Tomnahurich", exiting into the Moray Firth at Clachnaharry.
Bridges over the River Ness – The Seer predicted that when there were five bridges over the River Ness , there would be worldwide chaos. In August 1939, the fifth bridge over the Ness was completed and on 1 September 1939 Hitler invaded Poland and WW1 began.
He also said that when there were nine bridges, there would be "fire, flood and calamity". The ninth bridge was built in 1987 and in 1988 the Piper Alpha disaster happened.
SEER is a newly commissioned public sculpture, to be placed at Friar's Shot in the summer of 2018, made by directly casting the distinct geologies and two tectonic plates that form the Great Glen between Fort William and Inverness. You will be able to peer through the stones at the castle where the Brahan Seer artwork is located.