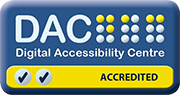 We are committed to providing a website that is accessible to all users, regardless of their physical ability, capability or the technology they use. We also routinely check web pages - when amendments are made to existing pages and when new pages are released - to make sure that they meet our accessibility requirements. We respond positively to feedback regarding the accessibility of any of our pages or services.
Pages on this site (www.highland.gov.uk) are tested and accredited by The Digital Accessibility Centre. Currently, this does not include other sites we own such as our planning portal (wam.highland.gov.uk), online forms (self.highland.gov.uk) and online map portal.
Access keys
We do not use access keys on our site as they may interfere with the keyboard shortcuts used in modern web browsers.
Keyboard navigation
We provide logical and consistent navigation for keyboard users
Links can be understood out of context for screen reader users
Links are highlighted on keyboard focus
Our logo links to the home page
Skip navigation link - for sighted users, the 'skip to' links are revealed by pressing the tab key after the page loads. You can skip to different areas of the page, depending on what options are available
We also provide a search facility on the site
Readability
We have made every effort to ensure that this website is easily readable by using 'plain English' and avoiding unnecessary jargon and acronyms. We have also provided alternative colour schemes in an effort to make the site more usable for people with specialist sight needs.
Language translations for this website
Visit our language translations page to read about what we do, in different languages.
British Sign Language content
You can find British Sign Language videos explaining our services on our dedicated British Sign Language page.
Downloadable content
We have made files available to download in a variety of formats. The most common are:
Adobe Acrobat (.pdf)
Microsoft Word (.doc)
If you are unable to open these types of documents, please download and install the latest versions of the free viewer software:
Accessibility limitations
Due to certain constraints, we have had to include technologies and features that cause accessibility issues. These include:
Google maps
YouTube media player
Twitter feed
We are making every effort to overcome these limitations by improving their accessibility and failing that, providing accessible alternatives. If you need alternative versions to our downloadable documents (such as plain text), or if you experience any accessibility problems with our site, please contact us.
The Highland Council does not assume responsibility for third party applications.
Browser compatibility
The site has been cross-platform and cross-browser tested and is currently compatible with modern browsers including Microsoft Internet Explorer 8+, Mozilla Firefox, Apple Safari, Google Chrome 10+ and Opera 10+.
You may experience issues with older versions of these browsers or other web browsers. If you experience any issues, please feel free to contact us.
Web accessibility accreditation
We have worked with the Digital Accessibility Centre (DAC). to receive accessibility accreditation on this site.The process included a team of users with differing disabilities testing the site on a wide variety of assistive technologies to make sure that all barriers to accessibility were identified and overcome.